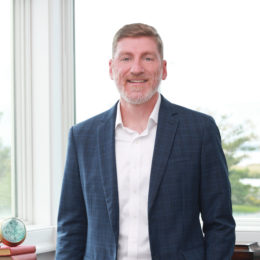 As a Wealth Advisor at Withum Wealth Management, Tom Farrell provides customized portfolio management and ongoing financial planning for his clients. With over 18 years of financial experience, Tom has established long-lasting relationships with his clients which include individuals, families and business owners, trusts and retirement plans.. Tom is a CERTIFIED FINANCIAL PLANNER™ professional and holds a BA from Bucknell University.
Tom began his career as a financial services representative at MetLife in New York helping clients fulfill their insurance and investment needs. Tom then moved on to work his way toward becoming a trusted financial advisor at RegentAtlantic in New Jersey. He obtained his CERTIFIED FINANCIAL PLANNER™ certification in 2004 after completing coursework at Fairleigh Dickinson University. As part of being a valued advisor Tom has spent time serving on investment committees researching asset classes and portfolio construction, rebalancing portfolios and implementing tax efficiencies. In addition, Tom believes each client should benefit from the planning process to optimize their financial lives given their goals and priorities. Accordingly, Tom has advised clients on topics ranging from Roth IRA conversions to the use of Revocable trusts.
Tom has a passion for his Irish heritage and has been involved with several Irish-American business and social organizations. He recently completed a two-year term as president of the Irish Business Association of New Jersey. He also previously served on the board of the Financial Planning Association of New Jersey.
Tom enjoys traveling with his family and is an avid runner participating in 5Ks, 10ks and half-marathons. He currently coaches sports for his young kids including soccer, baseball and basketball. Tom lives with his wife and two children in Union County, NJ.
Latest Insights by Thomas Farrell