As of right now, the election remains too close to call and both parties have signaled optimism. So far, it looks like the Senate will remain under narrow Republican control.
What does this mean for markets?
Last time there was election uncertainty with the Gore/ Bush Florida recount in 2000 the S&P500 saw a pullback of over 10%. It is probably a matter of hours before recounts and lawsuits move to center stage. Recounts and legalities will take time to resolve and may result in heightened volatility.
Regarding a divided Congress, voters have historically shown that they like a check on the presidency. As the chart below depicts, since 1950 the average S&P500 return has been over 17% under a split Congress, higher than both a unified Democratic (10.7%) or Republican Congress (13.4%).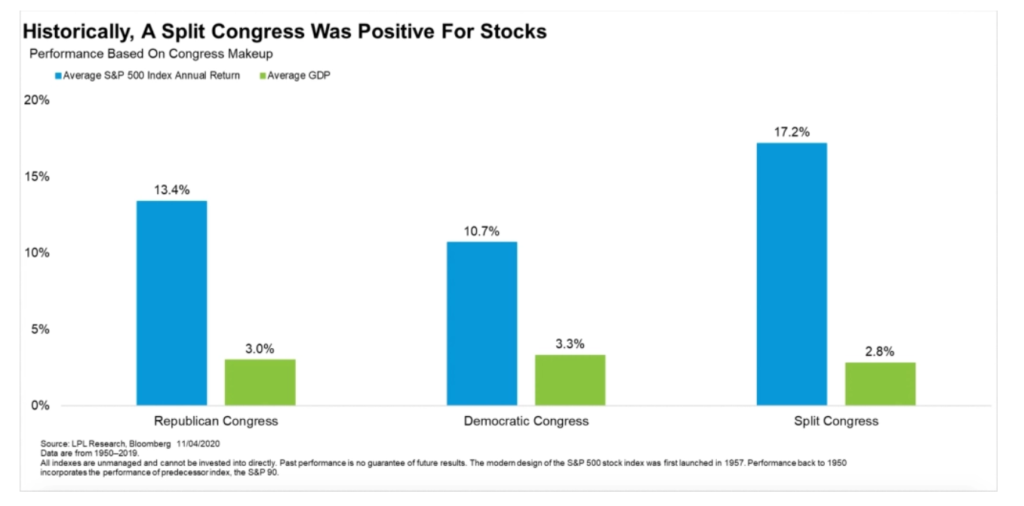 In the current environment, a split government points to a more predictable trade policy, plus the continuation of the low tax regime, including capital gains and personal and corporate taxes. It may be easier for markets to get comfortable with the upcoming policy (either Democrat or Republican).
Yesterday's positive market reaction seems to imply investors prefer gridlock. A split Congress in general has had the impact of limiting the more extreme proposals in areas such as big tech, pharmaceuticals, energy, and banking to name a few hot button issues.  In terms of providing meaningful fiscal stimulus soon, gridlock might be a headwind, but Congress could come together as they did back in the depths of the Covid pandemic.
It could be days, or even weeks, before we have the official results. A delay in getting official results was anticipated and patience will be paramount as we wait for clarity. This is our initial take given limited information and we look forward to sharing further updates as the process works its way through.