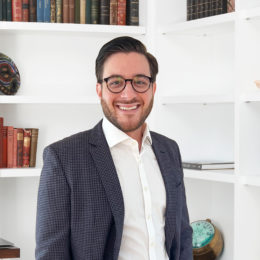 Adam Armstrong is a Wealth Advisor at Withum Wealth Management. He is a CERTIFIED FINANCIAL PLANNER™ (CFP®) professional certified by the CFP Board. Adam holds a Bachelor's Degree in Economics from The George Washington University and has over 10 years of investment management experience. He started his career as a financial advisor with AXA Advisors then moved to Fisher Investments working as an Advisor and Trader. In addition to his position at Withum Wealth, Adam collaborates with Senior Portfolio managers at Pinnacle Associates, a Withum Wealth co-founder.
Adam provides customized portfolio management and ongoing financial planning for his clients. Adam has a passion for behavioral finance and believes in instilling those beliefs in his clients in order to maximize long term financial success. He became a trusted advisor to help his clients make informed decisions and approach life with anticipation, rather than apprehension, by helping them to deploy a plan that is tailored to their personal situation and objectives, regardless of where the market is headed.
Adam began his journey with Withum Wealth Management in NYC, but has since moved to Boston to be closer to his family. Adam is an avid Boston sports fan, has many interests including California wines, playing a new board game, and hosting BBQs for friends and families.
Latest Insights by Adam Armstrong